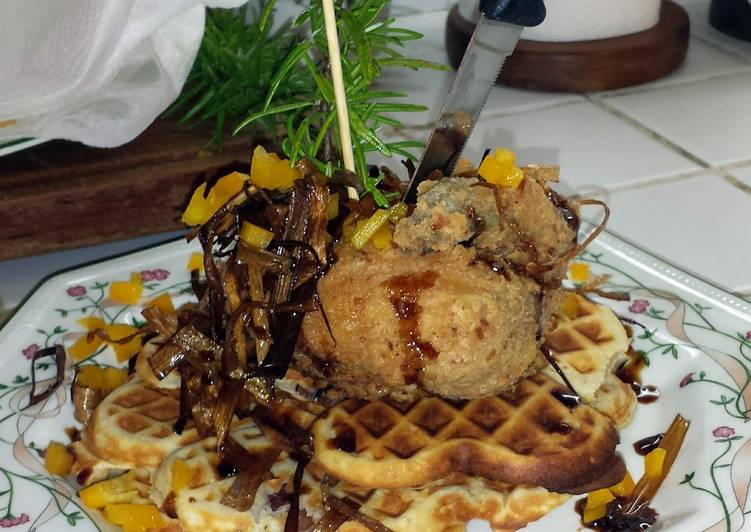 Sage Fried Chicken And Waffles.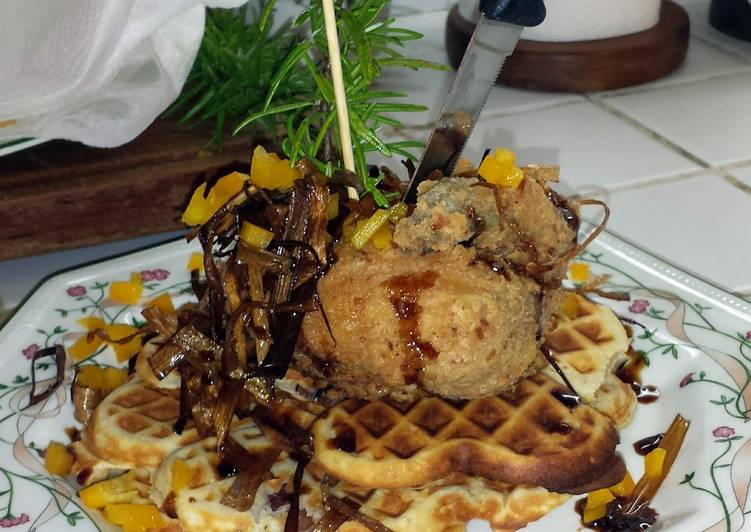 You can cook Sage Fried Chicken And Waffles using 36 ingredients and 39 steps. Here is how you cook it.
Ingredients of Sage Fried Chicken And Waffles
You need of Sage Fried Chicken.
Prepare of oil for deep frying.
You need 1 1/4 cup of flour.
Prepare 1 cup of corn starch.
You need 1/2 cup of lightly crushed cornflakes.
Prepare 6 of eggs (beaten for an egg wash).
Prepare 1 tbsp of season all or old bay seasoning.
You need 1 tbsp of fresh sage, finely chopped (I used dry sage).
You need 8 of bone-in, skinless chicken breasts. (if you prefer use boneless).
It's of Waffles.
You need 5 cup of flour.
You need 1/4 cup of Sugar.
It's 3 of eggs.
You need 2 cup of buttermilk.
You need 2 cup of milk.
You need 1/2 cup of melted butter.
You need 1 1/2 tbsp of baking powder.
Prepare 1 1/2 tsp of salt.
Prepare 1 tbsp of vanilla extract.
You need 16 pieces of hardwood smoked bacon cooked. ( I didn't have hardwood smoked bacon so I used smoked pancetta cooked).
You need of Leeks and Onions.
Prepare 6 of Spring onions (more or less depending on your preference).
Prepare 6 of leeks (more or less depending on your preference).
You need of oil for deep frying (you can use the oil that will be used for the chicken).
It's of BBQ Sauce.
It's 1/2 cup of low sodium soy sauce.
You need 1/2 cup of Brown sugar.
Prepare 3/4 tbsp of finely chopped garlic /or paste.
You need 3/4 tbsp of sriracha sauce.
Prepare 1 tsp of corn starch to thicken (Add more or less depending on your desired consistency).
You need 1 tbsp of cold water.
It's of Plate Creating Time.
Prepare 1 cup of finely chopped red or yellow bell Peppers/ or a mixture of both..
You need 1 cup of Warm maple syrup (more or less depending on preferences).
You need 8 of skewers.
Prepare 1 sprig of Rosemary (optional as its only to garnish).
Sage Fried Chicken And Waffles instructions
*chicken cooking process**.
Place each individual piece of chicken in a zip lock bag and lightly pound to flatten the thicker sides of the chicken so that each piece is evenly thick. (This method is better with boneless pieces).
I part cooked the chicken by bringing it to the boil with a pinch of seasoned salt for about 10-12 minutes. Then let it cool down before coating in the batter..
Mix the corn starch, flour, cornflakes, sage and season all and place in a shallow bowl..
Place the egg wash in another shallow bowl..
Heat the oil to 360°F..
Dip and coat evenly the chicken pieces in the egg wash then in the flour mixture..
Deep fry the chicken for 6-7 minutes (boneless), 9-10 minutes (bone-in) or until is has cooked through..
Once cooked drain on kitchen roll to remove excess fat..
*waffle cooking process**.
While the chicken is frying move onto the waffles. Preheat the waffle iron..
If you don't have buttermilk you can make your own as I did. For every 1 cup of milk add 1 tablespoon of white wine vinegar or lemon juice then let it rest for at least 5 minutes before adding to the mixture..
Mix all the dry ingredients together and set aside..
In another bowl mix the wet ingredients making sure to break up the eggs and mix them in..
Stir the wet ingredients into the dry ingredients until theres only a few lumps left (Add a bit more water or milk if the mixture is a tad too thick)..
Spray the waffle iron with oil..
Spoon the waffle mixture onto the hot iron making sure the batter fills all corners of the waffle iron..
Lay 2-4 pieces of bacon diagonally across each waffle batch..
Close the waffle iron and cook until golden and cripsy..
Cut the waffles apart once cooked..
*fried onion and leeks**.
The recipe stated to fry these before the chicken. Personally I don't think it matters as they take so little time to cook..
Cut the onion and leeks very thinly into strips..
Fry in a deep fat fryer until golden and crispy..
Once its done drain on kitchen roll..
*bbq sauce**.
In a small saucepan mix all the ingredients (minus the cornstarch and water) and bring to the boil then reduce the heat to simmer..
Mix the water and cornstarch together to make a slurry mixture. Then mix it into the bbq sauce..
Simmer for another 3-5 minutes or until it thickens up a little bit more..
*bring it all together**.
On a plate layer 2 bacon waffles then top with a chicken piece..
Secure the waffles and chicken with a skewer..
Next add a handful of the fried leeks and Onions on top of your stack..
Dribble a little of the bbq sauce on the stack and on the plate..
Skewer your stack with the rosemary and a steak knife (optional)..
Garnish with a handful of chopped peppers..
Warm the maple syrup either in the microwave on 30 second intervals or on the stove in a small saucepan. Do not let it boil..
Lastly, serve with maple syrup on the side of the plate (put in a small side bowl). Don't drizzle yourself, let each individual do it themselves..
Once your happy with your designer dish serve up..