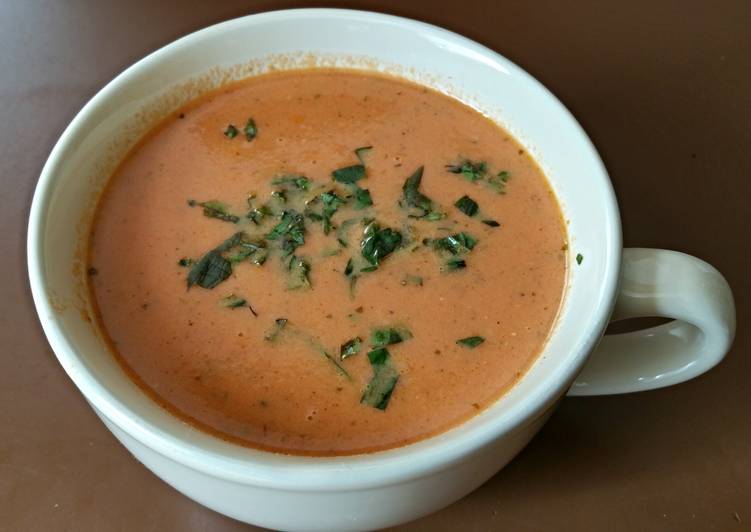 Roasted Tomato Basil Soup.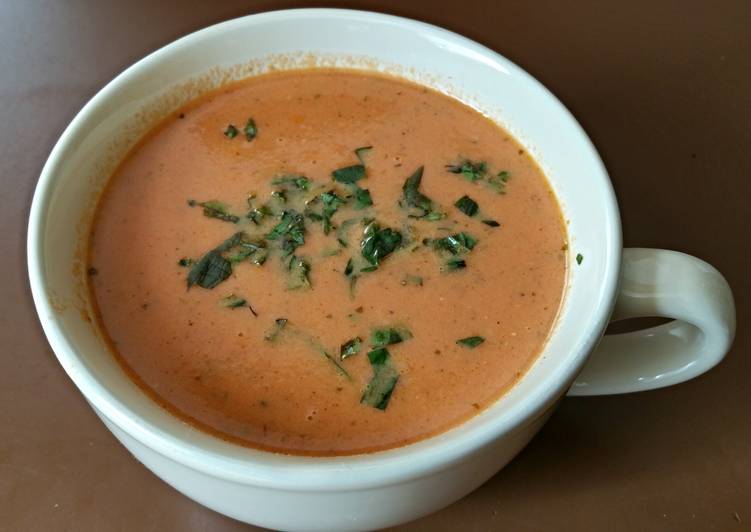 You can cook Roasted Tomato Basil Soup using 14 ingredients and 8 steps. Here is how you achieve that.
Ingredients of Roasted Tomato Basil Soup
Prepare 6 of large hothouse tomatoes, seeded and sliced into 4.
You need 1 of large onion, chopped.
It's 1 can of sliced tomatoes (28oz.), with their juices.
Prepare 1 tbsp of kosher salt.
It's 1 1/2 tsp of black pepper.
You need 6 clove of garlic, minced.
It's 2 tbsp of unsalted butter.
It's 1/4 tsp of red pepper flakes.
You need 1 bunch of basil leaves.
You need 1 tsp of fresh thyme leaves.
You need 8 cup of chicken stock.
Prepare 1/4 cup of olive oil.
It's 2 tbsp of olive oil, to sauté.
It's 3/4 cup of heavy whipping cream.
Roasted Tomato Basil Soup step by step
Preheat oven to 400°F. In a bowl, toss the seeded sliced tomatoes, 1/4 cup olive oil, salt, and pepper. Spread the tomatoes,in one layer on a baking sheet and roast for 45 minutes..
Meanwhile, in a large pot over medium heat, using the 2 tablespoon olive oil and 2 tablespoon butter, saute the onions, garlic, and red pepper flakes for 10 minutes until the onions start to brown..
Add the canned tomatoes, basil, thyme, and chicken stock. Turn down the heat to low..
Remove the roasted tomatoes out of the oven when done. Carefully peel off the skin on all of the tomatoes. Add the tomatoes, including the liquid from the baking sheet to the pot mixture..
Turn the heat back up to medium and bring the pot to a boil..
Add the heavy cream into the pot and simmer uncovered for 40 minutes..
Use a blender to chop the tomatoes into smaller pieces and pulse it for 1 second on and 1 second off. Do this three times..
Season with more salt and pepper if needed. Add chopped fresh basil to garnish. Serve hot..