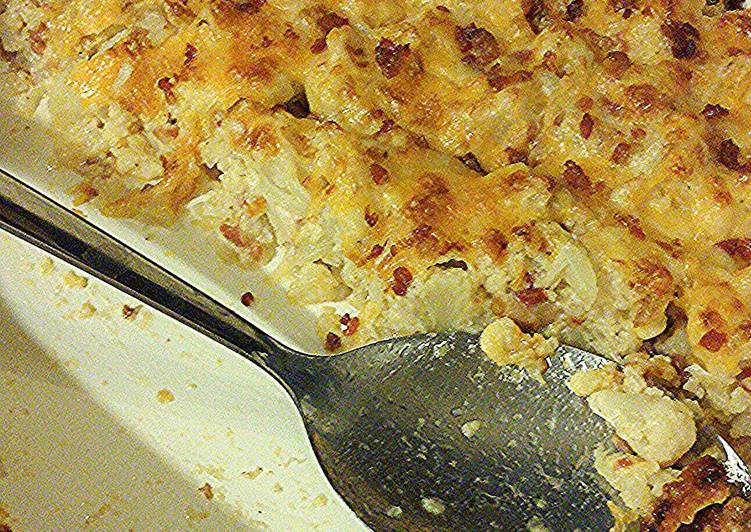 Loaded Cauliflower Bake.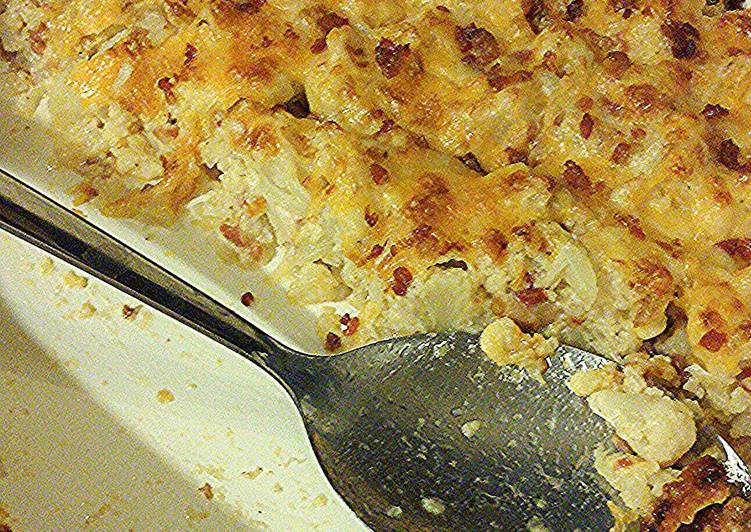 You can cook Loaded Cauliflower Bake using 8 ingredients and 7 steps. Here is how you achieve it.
Ingredients of Loaded Cauliflower Bake
You need 1 medium of head cauliflower.
It's 1/2 cup of sour cream (light version: light sour cream).
It's 1/4 cup of mayonnaise (light version: reduced fat mayo like Hellman's mayo made with olive oil).
It's 2 small of green onions – finely sliced, green & white parts (optional).
You need 3 tbsp of Oscar Mayer Selects Real Bacon Pieces – divided.
You need 1 1/2 cup of shredded cheddar – divided (light version: reduced fat cheese like Kraft 2% shredded cheddar).
It's 1 pinch of garlic powder (we love garlic so I added about 1/4 tsp).
Prepare 1 of salt and pepper to personal taste.
Loaded Cauliflower Bake instructions
Rinse cauliflower and cut or break florets into pieces (1-1 1/2in or so). Steam or boil until just fork tender. I steamed mine in a steamer basket, with salt and pepper sprinkled on top, for about 15 minutes..
When done steaming remove pot from heat, carefully remove lid from pot to let excess steam escape, then carefully remove cauliflower still in steamer basket from pot and place on plate to let cauliflower air dry slightly while you prepare the "sauce". If you boiled your cauliflower, drain in a colander and set aside..
Preheat oven to 450°F and spray a 2 quart baking dish with nonstick cooking spray..
In a large bowl combine sour cream, mayo, garlic powder, 1/2 cup shredded cheese and 2 tbs bacon pieces, stirring until well incorporated. Add salt and pepper after bacon to adjust seasoning accordingly (I usually don't need much if any)..
Add cauliflower and green onion. Stir gently to coat. It's ok if you break apart some of the cauliflower it will definitely happen..
Transfer to prepared baking dish, gently spread out evenly, top with remaining shredded cheese and bacon pieces. Bake uncovered for 15-20 minutes or until cheese is melted and the edges are bubbly..
Let sit 5-10 minutes before serving. Eat and enjoy!.